#5 Interview with Thijs Feryn
This is the fifth 'social' interview in a series with the phpDay 2012 speakers:
it's 'social' because the questions have been submitted and voted online on Facebook.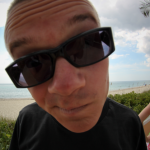 We are happy to introduce you Thijs Feryn, an evangelist at Combell, the number one Belgian hoster, he supports communities and has a particular love for the PHP   community.
He will give a session at phpDay called "CLI, the other SAPI"  Saturday 19th May at 14:30 pm on track 3.
The Interview:
Things that you consider before choosing a framework for a project?
The learning curve is important, but also if you're looking for components or a more full-stack implementation.
What should i learn next?
Learn C and contribute to PHP. I should start doing that myself, but haven't yet. Try to learn about Devops, it's interesting material.
What are your thoughts about functional programming?
Methods are functions too… so learn the functional stuff and apply it to OO if possible.
Sheldon or Leonard?
Who?
Who's your programming hero?
I'm not that geeky to have one.
What features would you like to see in the next PHP version?
The possibility to pre-compile PHP apps/files either in a compiled phar format or just as compiled php files.
Who killed JFK?
Your mom (sorry for that). Euhhmmm … the US government … I don't know.
What's the average beer per hour factor during conferences and a normal hangout?
I don't even drink alcohol.
What do you think about php 5.4 traits?
I kinda like it.
Duran Duran or Spandau Ballet?
Slayer!!!
What do you like and what not about php?
I love the PHP community, but PHP as a language could be more ambitious.
Which opensource projects are you following the most?
Varnish, Nginx, Zend Framework, PHP itself.
Did your love for programming cause you some troubles with your partner?
No but the fact that I go to conferences all the time did.
Suggest a book to read.
Evolution of a cro-magnon by John Joseph.
You can find Thijs on twitter @ThijsFeryn